Good routine grooming sessions will not only make your dog look and feel better, it will permit you to examine your dog's nails, ears, eyes, coat, and teeth's condition for any signs of problems. The size, breed, and type of coat will determine how often you need to groom your dog.
A healthy dog requires good hygiene customs, not like humans, most dogs do not need daily hygiene and grooming habits. The breed of your dog defines what is necessary, and how often. The Beagle, Weimaraner, and boxer are not the type of dogs that require regular grooming, therefore they spare you a lot of time in this area, while breeds as the Poodle, Komondor and Afghan hound need regular grooming. However, practices such as Teeth brushing, ear cleaning, brushing, and nail trimming are necessary and should be present in your dog care regular program, whatever the breed is.
The minute you hand your dog to a professional dog handler, professional dog groomers, you know for certain your dog is in safe hands due to the fact that they are well trained in grooming (even some veterinary technicians are good at grooming). Learning how to groom dogs at home is definitely helpful for owners in keeping them looking and feeling good in between visits to the groomer.
Dog breeders can be a significant source of information for owners as far as grooming is concerned. A reputable and responsible breeder should have loads of expertise hence an adequate amount of knowledge on your dog breed, equipment needed, and grooming tips.

Brushing at Home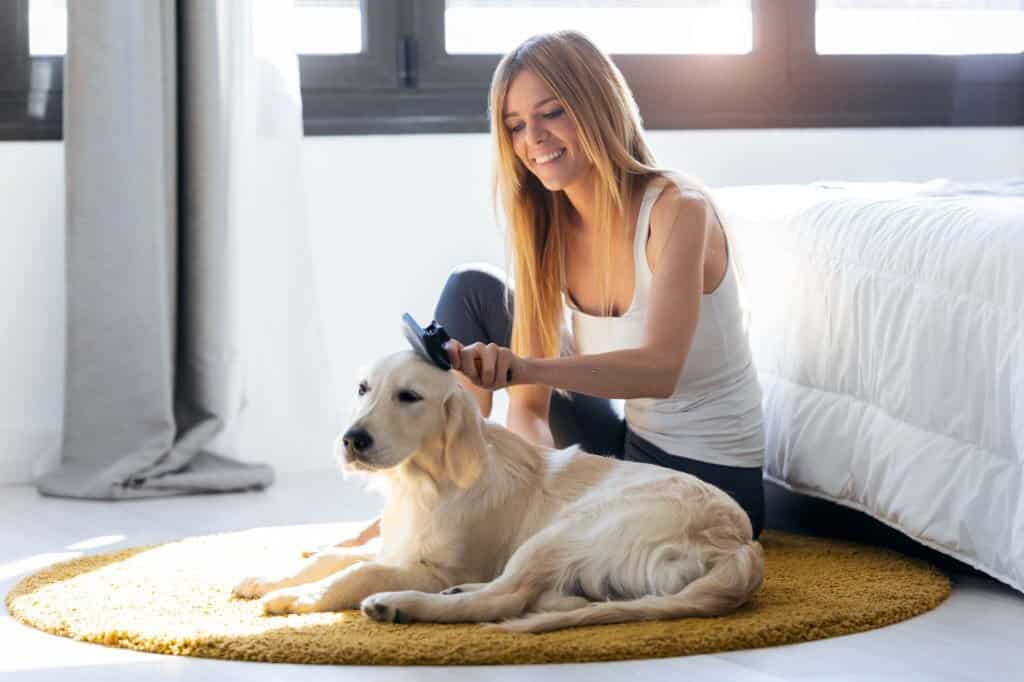 An average dog is in need of several brushing sessions a week to be kept clean and neat, however daily care is much better. Brushing in a way that touches the skin not only removes flakes of dandruff bit also generates a massaging like movement that stimulates your dog's blood circulation.
Every dog might need different equipment, the thing which is decided by their coat texture and length. For example pin brushes with long round-ended stainless steel are suitable for longhaired dogs, while bristle brushes are used for short, medium and sometimes for specific long-coated breeds. Other equipments for grooming that you might need are such as, rubber curry combs for polishing coats and removing dead hair, slicker brushes to remove dead hair and mats, stripping knives, hair dryers, rakes, clippers and so on …
Mats often grow behind under the legs and behind the ears of your dog, so when brushing check for them in the spots mentioned before, also check for burrs, cuts and scrapes that might be on the skin per se.
It is a fact, all dogs shed, but it certainly varies from one dog to another. To keep the shed controlled brush your dog regularly.

Bathing at Home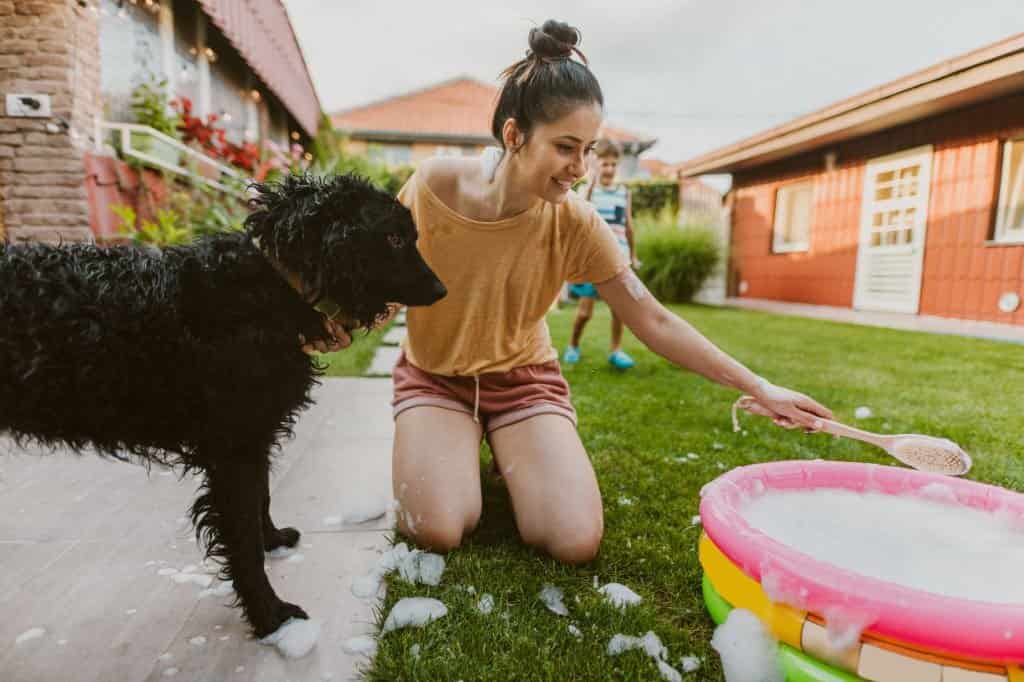 How often you should bath your dog depends on their breed and coat, in general regular baths are acceptable but not frequently. The action of washing your dog repeatedly, leads to the elimination of natural oils, in addition the coat becomes harsh and dry.
Use a mild shampoo formulated for dogs , if necessary. Position your dog in the middle of a basin or tub. Place cotton balls in their ears and put several drips of mineral oil in their eyes, next, with warm water wet your dog, apply shampoo leaving the head without. Now scrub and lather, after, wash your dog thoroughly with warm water. Wipe your dog energetically with a towel, they will respond with shaking energetically as well. Finally blow-dry your dog if needed, and brush or comb.

Nail Trimming at Home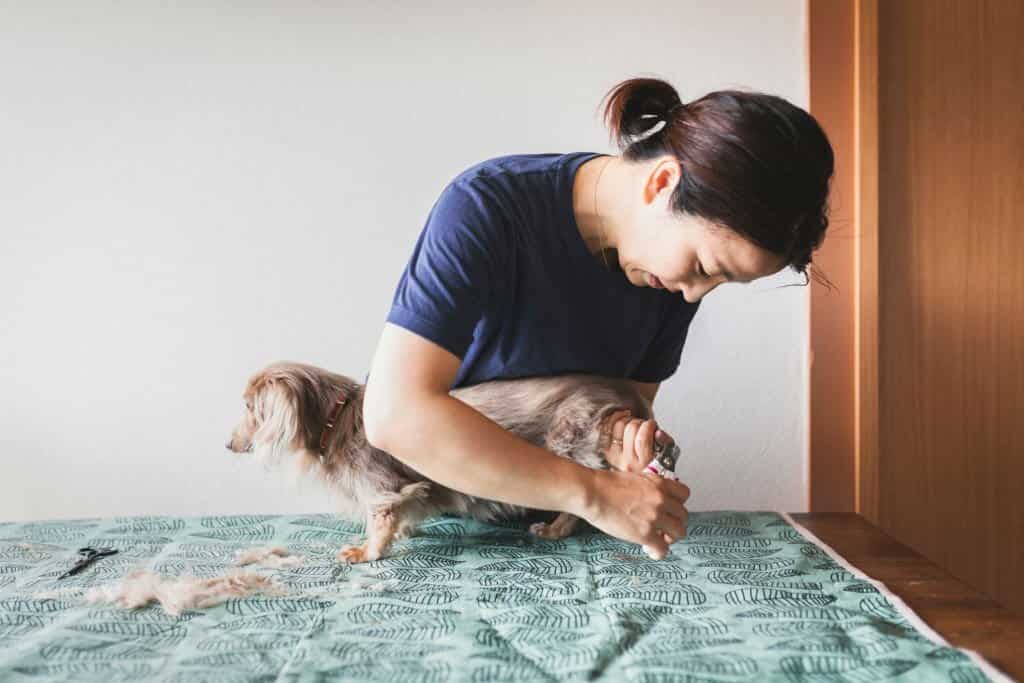 For the good of your dog's health nails must remain short. When having long nails, the dog walks either awkward or in pain, they could break easily because nerves and blood vessels are located at the base of the nail, it urges for a visit to the veterinarian. Your dog's paw do not click on the floor nails do, they call for a trim.
Use special clippers that are designed for trimming your dog's nails, they usually have safety guards to prevent any incident and help avoid cutting the nails too short. Trim only the ends, which look like the hook and do not get near the quick which is a blood vessel in the nail that can be seen on white nails only.
Some dogs do not like to have their nails trimmed, because they think you are going to hurt them and visualize the process as painful, one solution to the problem is getting your dog used to the procedure by trimming their feet in puppyhood, handle their feet gently, start by trimming one nail or two at one time and repeat till they get used to it and realize that you are not willing to hurt them.
You can take your dog to a professional groomer or veterinarian if you are afraid of cutting your dog's nails. If you cut the quick by accident use some styptic powder to stop the bleeding.

Ear Cleaning at Home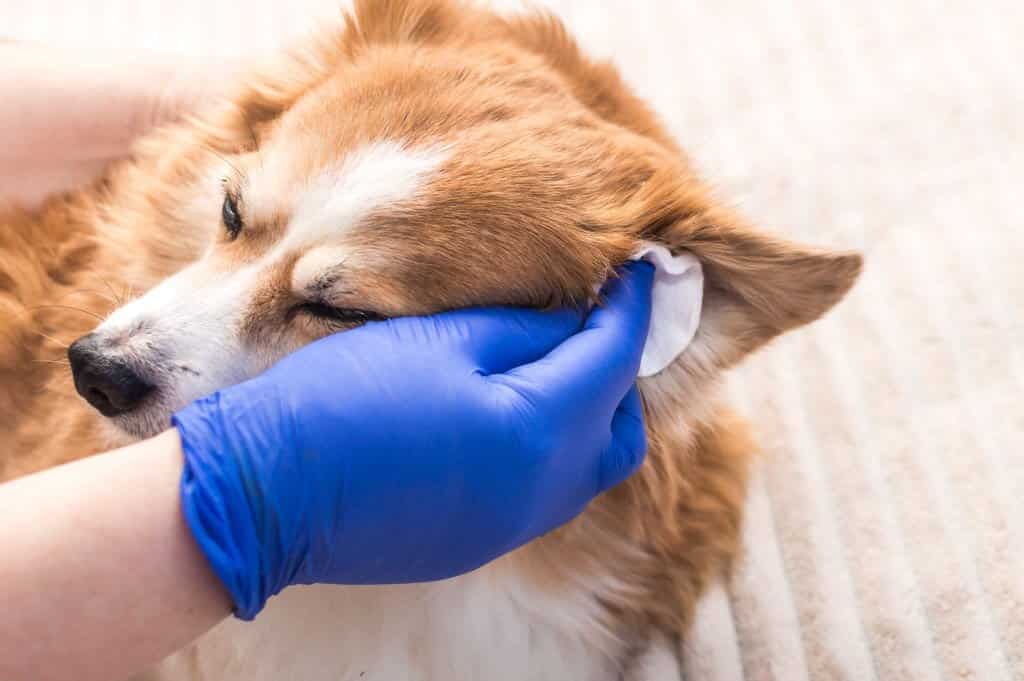 Get your dog's ears cleaned once a month especially if they have ear problems. Use a cotton pad or a damp cloth soaked in mineral oil to clean just the part out of the ear, and keep in mind not to force anything into your dog's ear. Some dogs need the hair inside of their ear removed to keep air circulating, ask your veterinarian before taking action.

Eye Cleaning at Home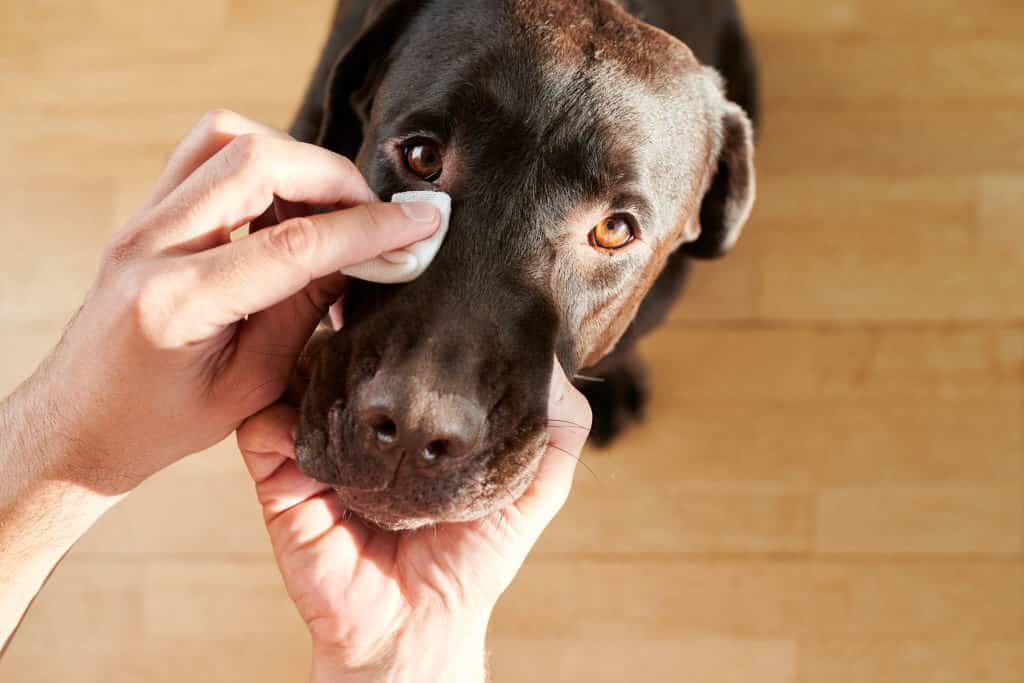 Use moist cotton balls to clean slight discharges. Be careful, do not put anything that can harm your dog's eyes and make them feel uncomfortable.

Tooth Brushing at Home

Dogs have special tooth brushes and tooth paste designed for them. Provide your dog with some chew toys for helping them get cleaner teeth. Clean your dog's teeth frequently, some dogs balk at having their teeth brushed, rub their gums and teeth after doing that apply some dog tooth paste on your fingers and allow them to lick and sniff it in order to get them used to it .repeat the process with the tooth brush. You may need to pay a visit to the veterinarian as your dog gets older to have their teeth cleaned due to the tartar build up.

Anal Sacs at Home

Anal sacs are placed on each side of your dog's anus. They are glands that project scent when your dog has a bowel movement, when you see your dog licking or scratching their anus and inspecting their rear, they may have impacted anal sacks. Do not do anything until you ask your veterinarian for advice on how to treat them.

Dog Grooming at Home Tips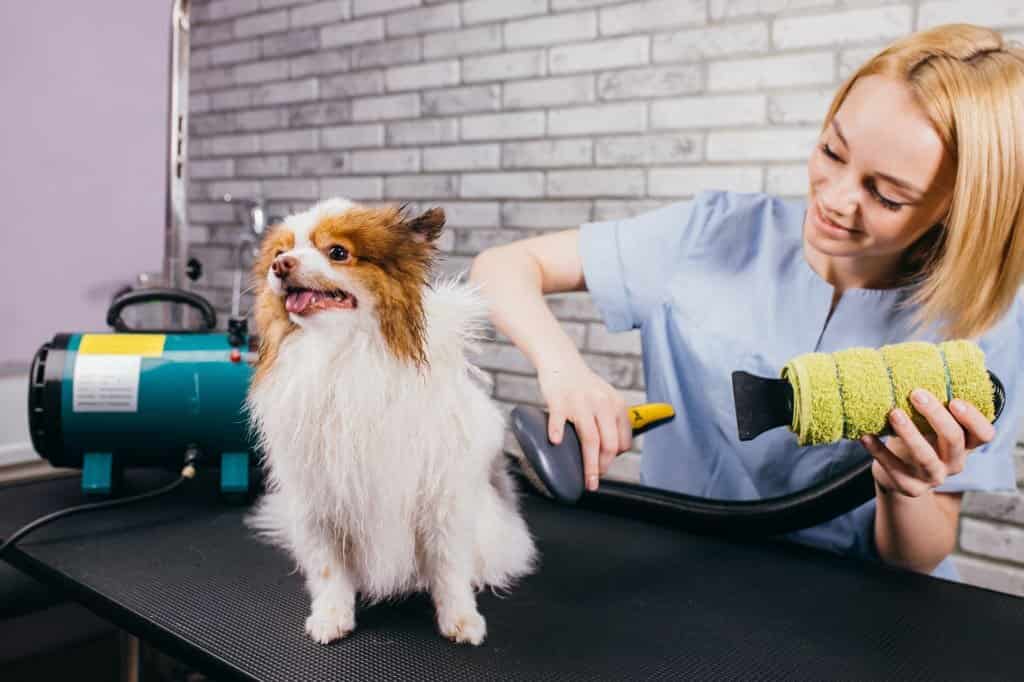 What to Do
Possess the right set of tools. Mentors and dog breeders or professional groomers could be of great help in guiding you purchase the right tools, the right nail trimmers, a styptic powder for example Kwik stop used to stop nail bleeding, teeth cleaning tools as well, wide and fine teeth combs, brushes, blow dryers and even shampoos if you want to. They can teach about good and right tables to use for grooming and so on.
Correctly use the brush that suits the coat of your dog breed. Sleeker brushes for example are suitable for long-haired dogs, whereas bristle brushes are preferred for short-haired breeds. Consult with your veterinarian, breeder or groomer to purchase the best option for your breed.
Now that you have the appropriate brush for your dog's coat, to remove debris and dirt, control shedding, prevent matting, and have a clean shiny coat; brush your dog regularly even if they have short hair.
Wipe any mud, dirt, sand, and other outdoor debris or remains using a damp towel to clean your dog's coat.
Check your dog regularly in grooming sessions and more than once a day during tick season. You can purchase the appropriate tools to help you with the removal of ticks and you can train with the help of your veterinarian on some safe techniques to remove ticks. The quickest you remove a tick the better it is for your dog. Make sure that your dog's paw pads are not dry, injured or cracked, by
regular checking. This is not only for hygiene but also for ensuring that your dog is in good condition. Hair growing in between your dog's toes in an excessive way may cause problems or become matted; therefore it should be trimmed to be in the same level as the paw pads or a little shorter. Be careful and use the right tools to prevent cutting your dog. Do not use tools such as small narrow clipper blade or small blunt-edge scissors without being properly prepared and taught by a professional breeder, groomer or veterinary.
You can learn from your groomer or vet how to safely and effectively trim your dog's nails, because you have to keep them trimmed. It is a cheap visit to the vet's office or groomer if you do not enjoy the trimming or face difficulties at it. Rotary trimmers are indeed a safe alternative for dog owners but unlike clippers the latter consumes more time and requires the dog to be trained for such method.
If you decide to trim your dog's nails, make sure that you have blood stopping products next to hand, such as a styptic pencil or a treating powder like Kwik Stop, if you accidentally cut too short. Nails should not grow too long and ought to be cut for the benefit of your dog as we explained earlier. Regular trimming helps the nails and the quick stay short and eliminates or at least decreases the probability of cutting it in other trimming sessions. If your dog has black or dark toe nails avoid trimming them yourself and pay a visit to your groomer or veterinarian's office or ask for advice.
If you have an eyes hair covering breed kind of dog, clean the eyes with a damp cloth and always trim the hair and make sure hair does not fall in the eyes of your dog to avoid irritation.
Using a soft piece of cloth or moist cotton ball wipe the inside of your dog's ear every week. Take a good look inside the ear, also smell each ear. Be alerted to any signs of swelling, severe redness, debris, discharge either yellow or brown, or a rotten scent may be a sign of infection, pay a visit to your veterinarian. This is often seen not long after swimming or a bath because of the buildup of moisture, it is significant to entirely dry one ear at a time after it gets wet.
You have to brush your dog's teeth a few times a week necessarily, and if you brush them daily is perfect. For your information plaque starts to accumulate after just 48 hours. Another method you can use for brushing is wrapping your finger with washcloth or gauze and start wiping up the teeth and you can also message the gums. Regular teeth brushing prevents serious health issues and problems for example heart disease, kidney disease and other dangerous diseases. By getting your dog accustomed to regular teeth cleaning you hit two birds with one rock, first you keep your dog healthy and clean and second you spare your-self ,time and money that could be spent on future dental and health problems.
Use on your dog only products of hygiene that are approved by your veterinarian.
What Not to Do
Human hygiene and beauty products such as conditioner, shampoo, and tooth paste cannot be used on your dog, because many of those products contain toxic and lethal elements to dogs.
If you learned how to cut your dog's nails feel free to do so with the right clippers or using a rotary trimmer, but keep in mind to have access to the essential products for stopping bleeding. Remember cutting your dog's nails too short can cause them discomfort, pain and bleeding.
Do not try to treat any injuries, lacerations, sores, or wounds of any kind, instead schedule an appointment with your veterinarian or call for consult.
Shaving and clipping your dog's hair needs experience especially when sensitive areas are concerned, so do not try to do it yourself if you did not receive the proper training. Go to a professional groomer they have the knowledge and tools to safely do the work, and most important they know the grooming needs of your breed.
Do not leave scissors and sharp tools out in the reach of your dog. Cutting Matts out of your dog's coat could be dangerous due to your lack of experience, a nervous puppy and one wrong movement could result in a grave injury. The best possible way to remove a mat is by using fingers, several different kinds of combs, some dog conditioner and most important thing a lot of patience and time.
Don not use or spray non-veterinarian –approved products and odors such as perfume. Dogs are very sensitive to scent than humans and most of these products contain dangerous elements. Sensitive dogs can have breathing problems from fragrances.
Bathing your dog outdoors in cool or cold temperature can lead to serious and dangerous drop in the temperature of the dog.
You should consult a veterinarian the moment you notice external objects in the eyes, ears, mouth, nose, or paw pads of your dog.it is important that you do not try to remove the objects your-self.
Your dog anal sacs should only be expressed by the vet or a professional groomer, this best for your dog, if you are so dedicated ask your groomer or vet to well train you for the procedure.
Combining regular grooming sessions visits with home grooming and hygiene, makes your dog's teeth, mouth, ears, eyes, paws and coat clean, odor free and healthy. A clean, neat and healthy dog equals a happy partnership.